[...] the idea that the value of a scientist lies more in their acquired skills and experiences than the facts in their heads. -- Bruno Sánchez-Andrade Nuño
Data manipulation and analyses
As an R enthousiast, I mainly used this progamming language. I present some examples below.
Modeling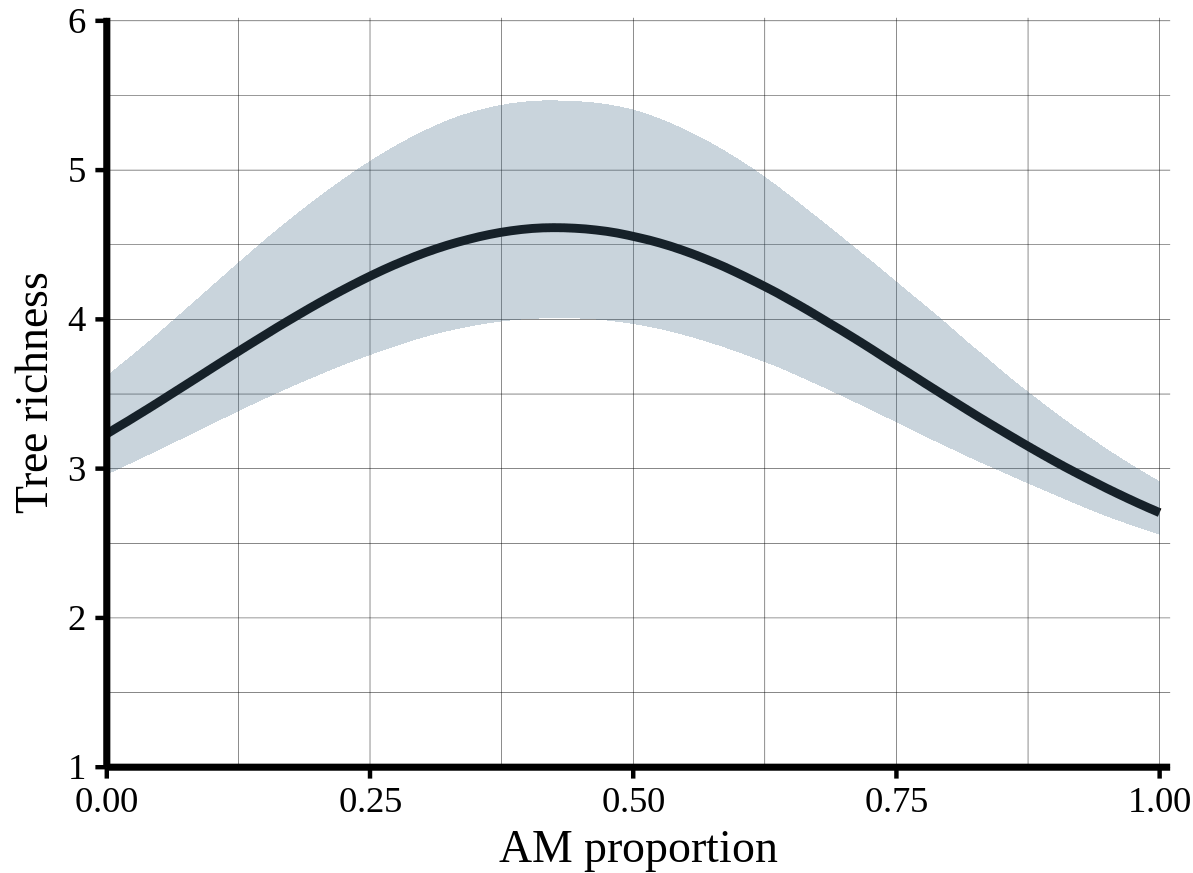 Effect of mycorrhizal proportion on tree species diversity using a generalized linear mixed-effect model with a truncated Poisson distribution implemented in a Bayesian framework.

Multivariate approach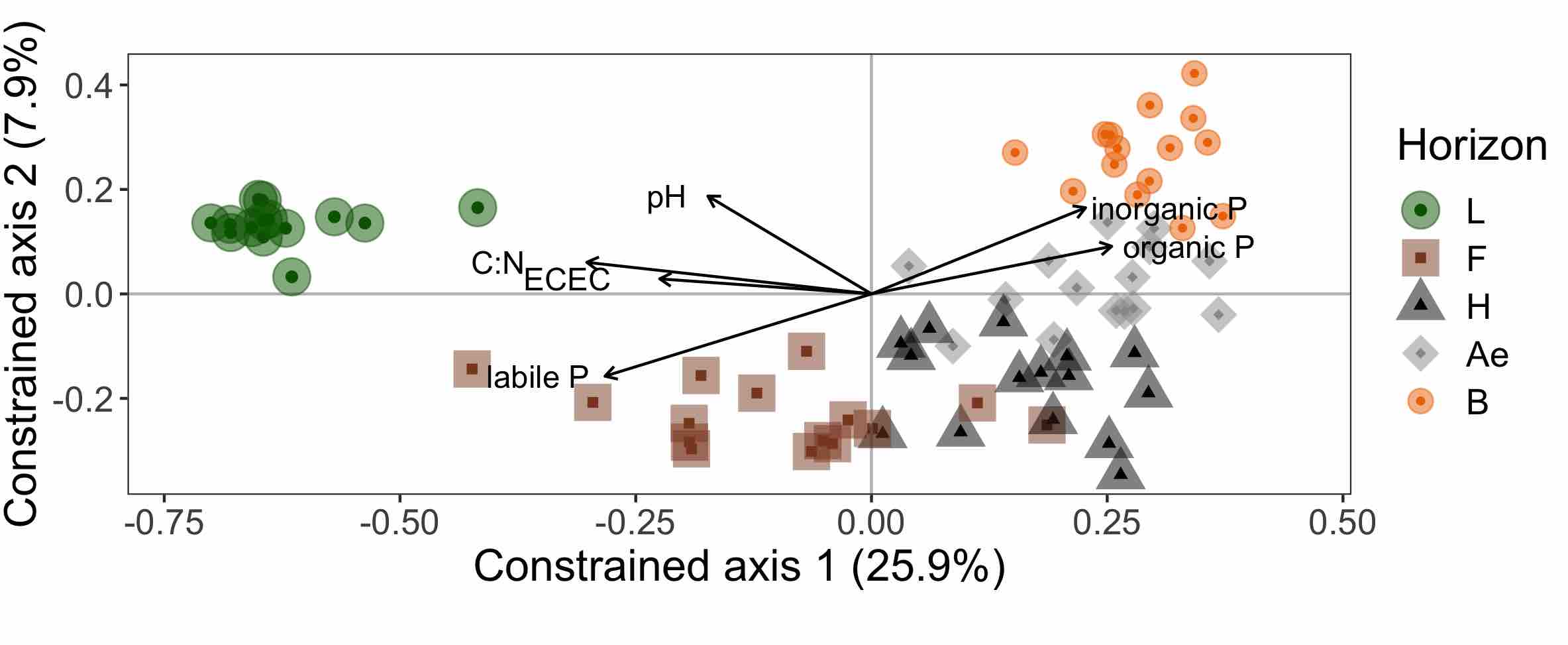 Constrained ordination of a fungal community by soil chemistry variables using a distance-based redundancy analysis with Bray-Curtis dissimilarities.
Spatial visualization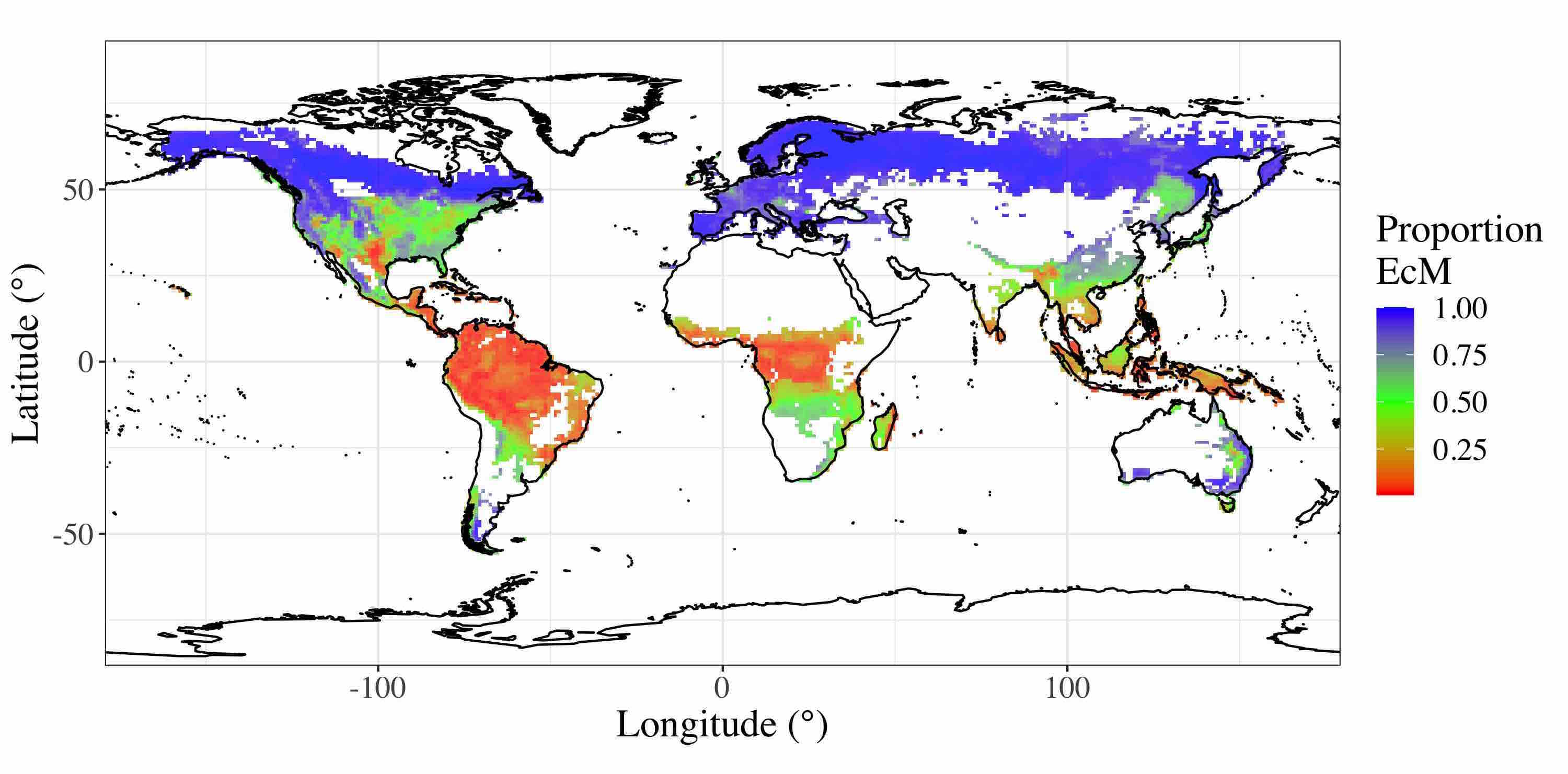 Ectomycorrhizal tree proportion across the globe (data from Steidinger et al. 2019 https://doi.org/10.1038/s41586-019-1128-0).
Large database management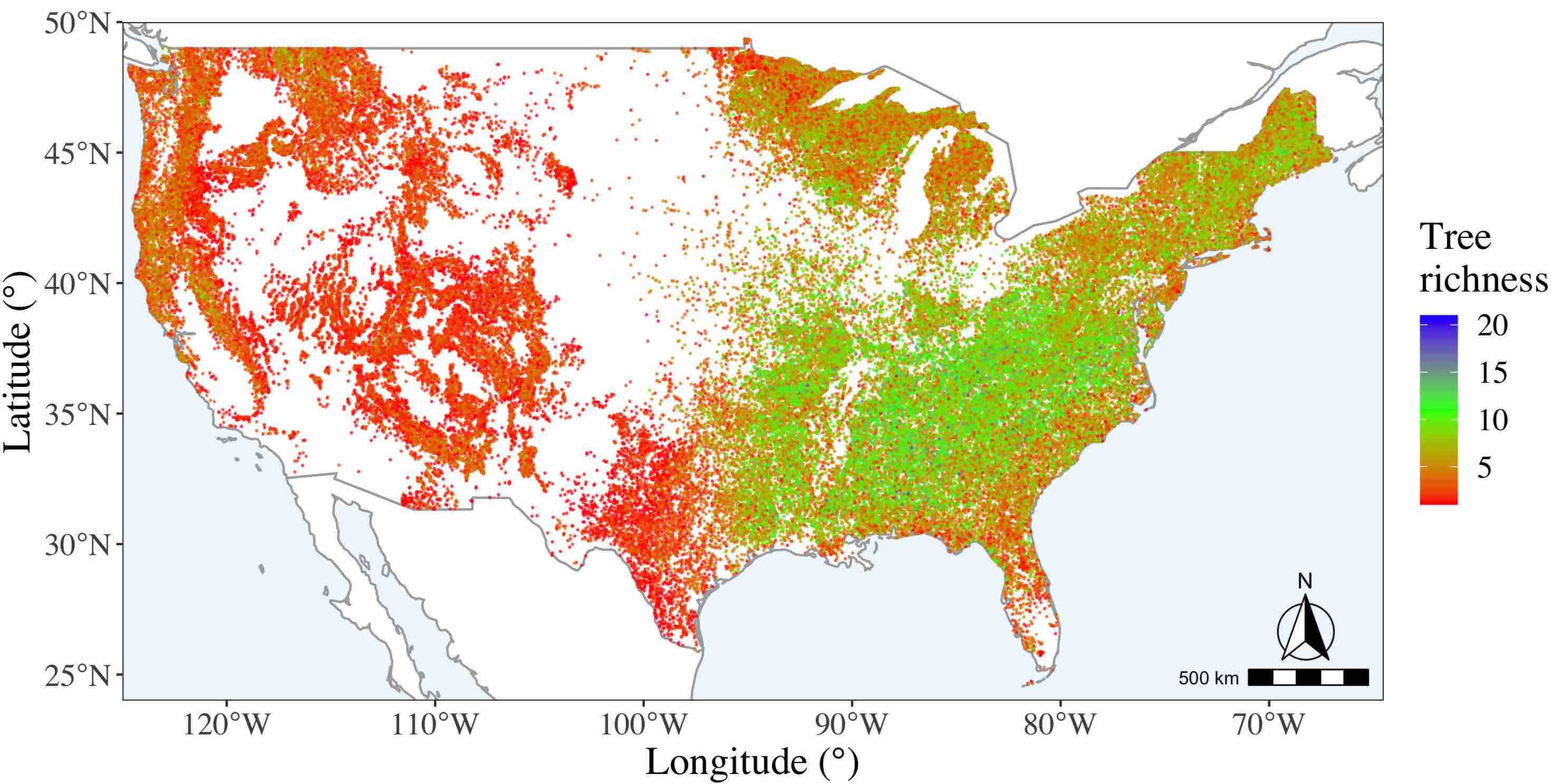 Tree richness at the community scale across the U.S. calculated for ~85,00 plots containing >2 million trees, retrieved from the FIA database (https://apps.fs.usda.gov/fia/datamart/).
Meta-analyses
I have followed several workshops given about meta-analysis and hope put it in practice very soon!
---
Metabarcoding
DNA extraction and amplification
Using primers for fungi (ITS and LSU) and plants (rbcL).
Analyses of sequencing data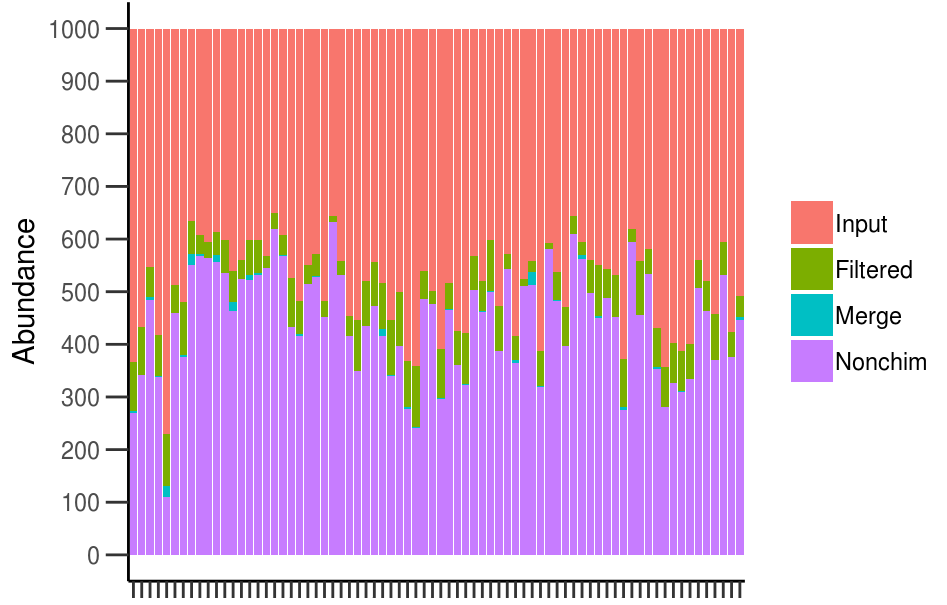 Percentage of reads per samples kept after different steps of denoising.
eDNA metabarcoding: From raw data to RDA (fun bilingual tutorials on DADA2 and phyloseq here).
Materials of the BIOME workshop on advanced bioinformatics here.
---
Soft skills
Language
My mother tongue is French. I am fluent in English. Also intermediate in Spanish and beginner in Portguese.
I really enjoy learning about new languages and local cultures.
Teaching
I love teaching and have had the opportunity to share my passion and knowledge with students of different ages and backgrounds.
2019: Lecturer, Plant ecology fieldwork course, Université de Montréal, Canada (Student satisfaction score: 96%).
2018: Teaching assistant, Fungal diversity course, Université de Montréal, Canada.
2016, 2017, 2018: Head teaching assistant, Plant ecology fieldwork course, Université de Montréal, Canada.
2016: Tutor, Biodiversity course, Université de Montréal, Canada
September 2015-December 2015 and September 2013-June 2014: Secondary school teacher in biology and geology in France.
October 2014-May 2015: Civic service volunteer, environmental educator, Brest, France.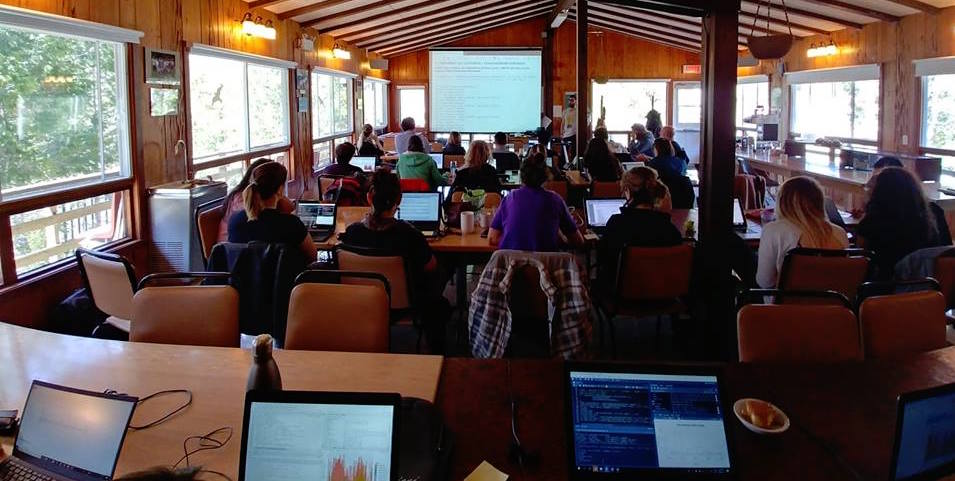 Teaching biostatistics
I also had the chance to take several workshops to learn how to teach.
Student supervision and mentoring
Most of the time teamwork is successful or even necessary to do research. I really enjoy working with others and I believe to be a strong team player. I had the opportunity to work with great mentors. In my turn, I have mentored and supervised amazing research assistants:
Mathilde L.: B.Sc. in biological sciences, Université de Montréal, Canada (September-December 2018)
Florence B.: B.Sc. in biological sciences, Université de Montréal, Canada (May-August 2018)
Fabien C.: M.Sc. in biodiversity, ecology and evolution, Université Aix Marseille (March-August 2018)
Florian P.: Environmental engineering, École nationale des travaux publics de l'état, France (April-August 2017)
Rose-Marie G.: Diploma in Bio-ecology, Cégep de Sherbrooke (May-July 2017)
Émilie T.: B.Sc. in biological sciences, Université de Montréal, Canada (August-October 2016)
Rosalie B.: B.Sc. in biological sciences, Université de Montréal, Canada (August-September 2016)
Joric G.: B.Sc. in biological sciences, Université de Montréal, Canada (July-August 2016)
Vlad P.: Horticultural engineering, AgroCampus Ouest, France (June-August 2016)
Azucena H.: Sustainable development engineering, Instituto Tecnológico y de Estudios Superiores de Monterrey, Mexico (May-August 2016)
Myriam L.: B.Sc. in biological sciences, Université de Montréal, Canada (May-August 2016)
Marie B.: Biotechnology engineering, école d'ingénieurs Polytech Marseille, France (May-July 2016)
---
/!\ Currently under construction
Functional ecology
---
Soil analyses
---
Fieldwork and experiment